BEST FOR
Best Overall Hosting Provider
OVERALL RATING
5 out of 5 stars
Bluehost is a hosting provider with strong customer service, uptime, and value for money. If you're looking to host a WordPress site, then this is the provider for you. Some of Bluehost's features are stronger than others, though – read on to learn more.
Is Bluehost Web Hosting for You?
Spend a few minutes researching the best web hosting providers, and Bluehost will be on your radar almost immediately – it's widely used and hugely popular. But what sets Bluehost apart from the pack? Does it have exactly what you're looking for, or would another provider be a better fit?
We'll cover the most important deciding factors in-depth, but to start, here's Bluehost at a glance:
Best Overall Hosting Provider
4.8
out of 5
TOP CHOICEHosting Features
4.2 out of 5 stars
Value For Money
4.7 out of 5 stars
Types of Hosting
4 out of 5 stars
Help and Support
3.5 out of 5 stars
Disk Space
5 out of 5 stars
Visit BluehostRead Full Review
We've conducted our own research of the top hosting providers, and compared our findings for each provider in order to rank them as accurately as possible. The good news is that Bluehost secured the number one spot, scoring 4.8 out of 5 overall. Bluehost's particular strengths are VPS, dedicated, and WordPress hosting.
Who Is Bluehost Best For?
Bluehost's range of hosting types, strong features, and affordable beginner plans make it a dependable hosting provider. That's why we've rated it the best overall hosting provider on the market. Bluehost is also the best choice you can make if you're hosting a WordPress site – it's earned the title of best for WordPress hosting in our research, scoring 4.6 out of 5, and WordPress itself has been recommending Bluehost since 2005. We also think it's pretty great for ecommerce website hosting, if that's your kind of thing.
In the video below, Bluehost customer 'Melty Way' (a grilled cheese sandwich restaurant in Utah) discusses how Bluehost has helped to grow their small business:
business:
Bluehost Pros
Seamless WordPress integration: It couldn't be easier to set up a WordPress site through Bluehost
Budget-level pricing: Bluehost has an overall value score of 4.7 out of 5 – prices are still competitive even after the first year, and a variety of tiered pricing plans means there's an affordable option for every site
Dependable features: Bluehost's plans are rich in features, including unmetered bandwidth, a free domain, and cPanel access
Bluehost Cons
Limited basic plans: Bluehost's cheapest plans won't be enough if you're looking to grow online, but it can get you started on your journey
Unreliable uptime: Sadly, Bluehost performed poorly in our site speed and uptime testing, despite an advertised uptime of 99.98%
Reliability and Performance
Bluehost has an advertised uptime guarantee of 99.98%. No web host can provide 100% uptime, so 99.98% is a strong showing – it translates to roughly one hour and 45 minutes of downtime per year.
Don't get too excited, though! We tested Bluehost's site speed and uptime, and despite it having the wow factor in other hosting areas, Bluehost is hugely let down when it comes to uptime performance, scoring only 3 out of 5. Other hosting providers, such as HostGator and IONOS, received scores over 4!
Types of Hosting and Features
Bluehost offers six different types of hosting: shared, shared WordPress, WooCommerce, VPS, managed WordPress, and dedicated. We've broken down the details of each type in our Bluehost Pricing Review, but generally, you can think of the differences like this:
Bluehost is a strong choice for any hosting type, but we know, thanks to our research, that it excels at VPS, dedicated, and WordPress hosting. In fact, in some areas Bluehost has shot up from third place into the winning spot – for example, it now scores 4.6 out of 5 for VPS hosting and a whopping 4.9 out of 5 for dedicated hosting!
WordPress and Bluehost
WordPress recommends Bluehost as its number one web hosting provider – and that's no small feat, coming from a company that's dealt with innumerable web hosts in its time. If you're already set on having a WordPress site, then Bluehost is the best web host to go with. And if you're already set on Bluehost, then you should definitely consider setting up your site with WordPress.org – you can install it through your Bluehost dashboard with just one click.
How to Install WordPress on Bluehost
This step-by-step tutorial shows just how easy it is to setup a WordPress website with Bluehost: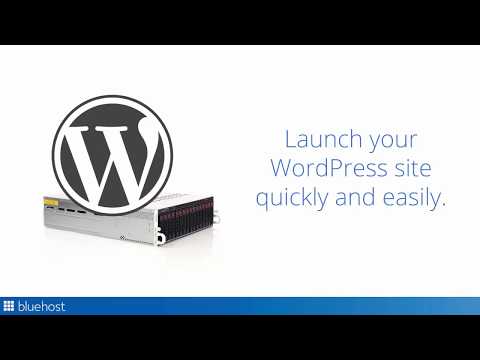 Other Bluehost Features
Seamless WordPress integration is Bluehost's most impressive feature, but definitely not its only feature. Though Bluehost only scores 3.3 and 3.8 out of 5 for shared and VPS features, respectively, its dedicated and WordPress hosting plans have excellent features, both scoring 4.4 out of 5. We've compiled the rest of Bluehost's best offerings below:
| | |
| --- | --- |
| Domain registration | Bluehost offers a free domain to certain users when they sign up for a one-year plan. However, that perk doesn't include the domain registration fee (between $10-15), which you'll still have to pay for. |
| Website builder | There's a drag-and-drop site builder for those who have an idea of what they want to create, but don't have sharp enough HTML and CSS skills. |
| Data transfer | Bluehost offers unlimited data transfer on many of its plans. However, Bluehost also provides CPU protection – more on this below. |
| cPanel | Bluehost uses the "cPanel" Control Panel, which is a popular site management system. The company also offers free backups so you don't lose any key site files. |
| Storage | Depending on the plan you use, Bluehost offers anything from 10GB up to unlimited storage space for your site files. If all you plan to do is run a WordPress blog with words and images, then the 10GB plan will be fine, and you can always upgrade if you need more space. |
The fact that you can get so much in one place is a big draw for customers. When we reached out to our email database for first-hand experiences of Bluehost, a consultant, said:
"I used Bluehost, because I could do it all in one place: domain registration, email-admin, hosting, unlimited sub-spaces. The documentation was very good and what I needed at the time."
Pricing
Bluehost ranks highly in our research for value for money, with a score of 4.7 out of 5 overall. Additionally, Bluehost scores the best for price when it comes to VPS, dedicated, and WordPress hosting. The best part? All Bluehost plans come with a 30-day money back guarantee.
Shared hosting offers Bluehost's cheapest plan, at $2.95 per month for the first year and $9.99 per month after that. Dedicated hosting, understandably, offers the most expensive plans, starting at $99.99 for a 12-month term.
Bluehost Starting Prices:
For consistency across our hosting reviews, we'll be focusing on Bluehost's starting prices with a 12-month term. If you commit to a longer period of time, the price will usually be cheaper!
Who should pay for Dedicated hosting?
Did You Spot a Price You Liked?
Bluehost offers a range of hosting plans, so it's worth comparing them before deciding. Explore its packages, deals, and more on its website!Yes! Pick My Perfect Bluehost Plan
Bluehost Pricing vs Competitor Pricing
Take a look at the table below to compare our top three hosting providers when it comes to pricing. Again, we've focused on 12-month subscriptions to keep the comparison fair.
| Provider | Shared Hosting | VPS Hosting | Dedicated Hosting | WordPress Hosting |
| --- | --- | --- | --- | --- |
| Bluehost | $2.95 | $24.99 | $99.99 | $2.65 |
| HostGator | $3.95 | $23.95 | $109.97 | $7.95 |
| InMotion | $3.49 | $24.99 | $89.99 | $4.49 |
Which Plan Is the Best Value for Money?
If you're new to web hosting or your site isn't that massive, then we recommend starting with Bluehost's shared or shared WordPress hosting plans. They're the cheapest, and still offer a decent variety of features, but Bluehost's shared hosting does only score 3.1 out of 5 in our price testing.
That being said, Bluehost's dedicated hosting plans are unbeatable when it comes to value for money, scoring 4.4 out of 5. Expensive, yes, but cost-effective!
Plus, Bluehost's dedicated plans have only improved over time. As we've already said, Bluehost's dedicated hosting scores 4.9 out of 5 in our latest research, but it had a previous score of 4.5!
Besides, when your site outgrows these shared plans, you can always upgrade to the pricier but better-equipped options, such as Bluehost's excellent dedicated hosting offerings.
Bluehost Additional Costs
Unfortunately, most hosting providers will fill your virtual basket with add-on items during checkout. These odds and ends will hike up the price of your plan, but you can always uncheck them before making your purchase.
However, some of these additional items will be worth the money, depending on the type of website you're looking to get off the ground. Here's an overview of the most common extras you'll run into:
When we reached out to our email database for reviews of Bluehost, the price of add-ons came up as an area for improvement. One reader said: